Conference WordPress Theme
View Admin User's Full Store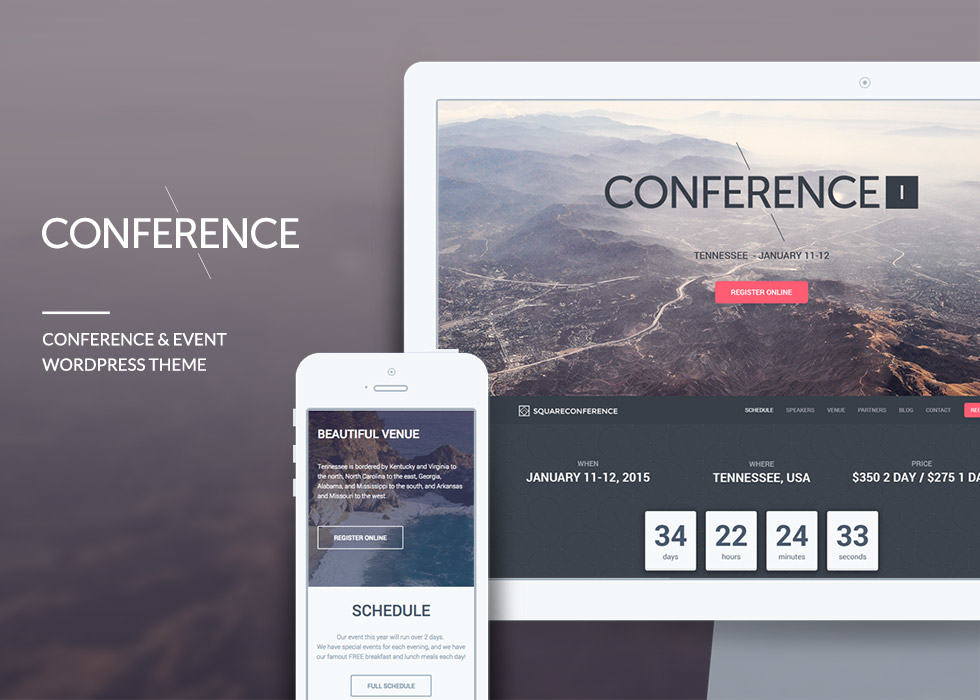 The best WordPress Conference Theme. Our solution is feature packed with sponsor levels, multiple days, speaker lists, speakers attached to sessions and so much more!
We studied and reviewed hundreds of conference sites across the web before planning the features of the theme and plugins to ensure we covered all functions and abilities. We found current solutions to either be overly complicated, not enough complexity, poor design, constricting or just plain hard to use.
We designed our conference theme and free plugins to be simple to use, intuitive and powerful, and most importantly results orientated. We then took this powerful functionality and wrapped it in a gorgeous, customizable wrapper that looks and works amazing on all screen sizes.
Conference WordPress theme will help you get your site up and running in minutes, provide an excellent user and admin experience, and help convert visitors in to attendees!
SPEAKERS
Speakers are what a lot of people attend conferences for. As a conference organizer, one of your main objectives is to create a killer line-up of speakers. Our Conference theme provides you with an easy but powerful tool to showcase these speakers and help to shine the spotlight on them effortlessly via our free plugin.
Add an unlimited number of speakers
Add photo, title, company, position, social links, company website link and bio for each speaker
Automatic speaker index page creation – create a page, choose the template and click publish
Single speaker page displays full information and all of their sessions automatically
Easily add speakers to sessions in your conference
Speakers automatically appear on session pages and full schedule listings
Speaker widget available for drag and drop placement with options for displaying information

PLUGIN URL

 – https://wordpress.org/plugins/cr3ativ-conference/
SESSIONS
Sessions make up your full conference schedule and it's what attendees need to see and understand. We spent a long time planning and researching the best way for admins and visitors to see this important information. We created a free dedicated plugin to achieve this.
Add an unlimited number of sessions spanning unlimited days
Sessions can be categorized for easier management and display on the front end – group and display your sessions by category for attendees
Add session name, date, start and end time, location, choose speakers and categorize
Automatic sessions index page (full schedule) creation – create a page, choose the template and click publish
Full schedule page lists each day of sessions individually, displays title, time, date, location, full speaker list, excerpt, and read more
Single session pages display all information and each speaker can be clicked to view their profile and other sessions they may be speaking at
Highlight particular session for any reason – such as 'Lunch' or 'Keynote' to bring further attention when scanning the full schedule
Session widget available for drag and drop placement with options for displaying information

PLUGIN URL

 – https://wordpress.org/plugins/cr3ativ-conference/
SPONSORS
Sponsors are a primary way of attempting to cover the cost of running a conference without selling a single ticket. We allow you to showcase them prominently, wherever you wish in your theme via our free dedicated plugin that the theme is fully styled for.
Create unlimited sponsor levels – for example platinum, gold, silver etc.
Create full profiles for each sponsor including Company name, logo, website + url plus bio
Assign sponsors to levels easily
List your sponsors anywhere via either a shortcode or drag and drop widget with options for displaying via sponsorship level and if you wish to display logo, name, link and bio plus sorting order

PLUGIN URL

 – https://wordpress.org/plugins/cr3ativ-sponsor/
THEME FEATURES
Fully tested in WordPress 4.6.1
Bloat-Free Theme
Customize all your colors and theme options via the live WordPress customizer
Easily set your own background images for every section of the home page
Featured images on page templates appear as the top banner automatically
HTML5 and CSS3 construction (heavily commented)
XML Preview Data file included for import
Import file for widgets and all their settings and content
Extensive live help documentation http://cr3ativ.com/conference-wordpress-documentation
Translation ready with mo/po files supplied
WPML ready
Fully Responsive Design
SEO Best Practice Coding
Fully working sponsorship form with validation via the free Contact Form 7 plugin
Lightbox for linked images
Multiple registered widgets for footer and right sidebar pages
Paginated Comments
Paginated Posts for long articles
Responsive videos, buttons, icon buttons, google maps, toggles, tabs and more via our free short codes plugin
Multi-Track WordPress powered Audio player (self hosted)
Multi-Track WordPress powered Video player (self hosted)
Youtube, Vimeo, SoundCloud, Twitter etc. embeds supported
BONUS FREE 13 Layered PSD Files
Support proudly supplied for installation issues / but not for customization (available at cost)
FULL SUITE OF PAGE TEMPLATES
Dedicated Home Page
Automatic Site Map Page
Dedicated 404 Error Page
Dedicated Search Page
Dedicated Full Schedule Page
Dedicated Session Single Page
Dedicated Speaker Index Page
Dedicated Speaker Single Page
Blog Index / Category / Archive Page / Author Page
Blog Single Page
Full Width and Right Sidebar Pages
Download Details
Conference WordPress Theme
0 sales
has been added to your cart!
have been added to your cart!